I've been attending hypnosis conventions for about 15 years and they are not only a lot of fun but also extremely educational. Many hypnotists would like to attend, but they don't really know what to expect. So in this email I will be talking about the Hypno Expo conference and what you can expect if you go!
Getting good, live training is essential if you want to become a competent hypnotist or if you want to upgrade your skills. But what can you expect when you arrive? Well, let me tell you...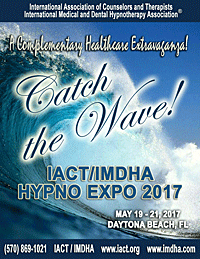 May is the absolute best time to go to Daytona Beach, Florida! The daytime temperature will be about 80 degrees Fahrenheit - think of how nice the ocean is going to feel!
The conference is uniquely different than other conferences with respect that its' goal remains focused on sharing quality HYPNOSIS information.
Situated on a warm sandy beach in sunny Daytona Beach, Florida, the weather is exceptional in the month of May. It's an easy drive from the Daytona Beach airport which is about a 15 minute drive. Many people choose the Orlando airport for commuting as it's easier (and cheaper) to get a direct flight from nearly all points in the world. There's a shuttle service that offers transportation right to the front door of the hotel and the price is pretty reasonable. Delta airlines offer nonstop flights directly into Daytona Beach, so keep that in mind when making your flight reservation.
The Daytona Beach Hotel and Conference Center is affordably priced at just $92/ngt (cityview studio) offering all the amenities of home with a full kitchen. The hotel has 4 pools, a fitness center and business center that are all complimentary to hotel guests. The price is all inclusive – meaning no hidden resort fees tacked on your bill at the end of your stay. Yay! Parking is free too. This insane rate is only good until April 19th or the block of rooms are sold out - whichever comes first.
Hypno Expo has a cool app that contains the entire conference at a glance – with access from your ipad or smart phone. It has many of the local eateries, bars, local attractions, churches, pharmacy, hospital and so much more. It's real convenient that the grocery store is located directly across the street in the Town Square Mall. That makes it affordable and easy to prepare your meals in the privacy of your room - especially if you are on a budget or have special dietary needs. Many of us gather a group together and venture out to explore the local eateries. The Blue Grotto is an all-time favorite of many of my friends.
With nearly 100 classes to choose from, the cost is really reasonable too. It's probably one of the most affordable conferences for the return on your investment.
What really sets them apart from other conferences – If you are unable to attend the live event, Hypno Expo offers a LIVE Virtual Stream of the entire conference! You can literally attend in your sweats or PJs! You get to watch the lectures – in real time – in the comfort and privacy of your home or office. The cost is really reasonable too. Just $259 (member price) for all three days if you register by April 19th.
They offer a complimentary continental breakfast for all three days, a Friday evening social (with great food and entertainment), a live demonstration of the Stage Hypnosis Phenomena. Then on Saturday, a formal awards dinner-banquet and entertainment. Throughout the weekend there are plenty of treats and extras that are not normally part of the run-of-the-mill conferences. One year there was a Caricaturist on board offering complimentary souvenir portraits to conference attendees. Conference staff thought of everything by even providing shipping tubes so the portraits arrived home undamaged in your bags. Last year they had a fun photo booth and their our own private Barista serving up all-time favorites like Lattes, Cappuccinos, and Iced Chai – all included with full conference registration.
And nobody does this.... this year they are offering a FREE 2-hour Mentor workshop to anyone who registers for conference. Any topic imaginable is literally YOURS FOR THE ASKING – paneled by some of the most experienced and knowledgeable practitioners in the filed. The workshop is offered on Sunday on May 21st.
Also not only will I be attending but I am also teaching a two day introduction to Ultra Depth class on May 17th and 18th.
This conference benefits the professional with an interest in hypnosis; Those who work in a hypnosis office/environment; Partners of hypnosis professionals and Practitioners who would like to learn more about hypnosis.
I have had the pleasure of attending Hypno Expo in the past. The attendee networking is incredible! ...and the energy is electrifying! Take a look at some of these clips and hear what others have to say about attending www.HypnoExpo2017.com You can go here to Register for this potentially life-enhancing event.
All in all it was a great time. I trust you'll consider attending.
Ralph Allocco PhD
Save
Save